Hire Government Approved Guide in Agra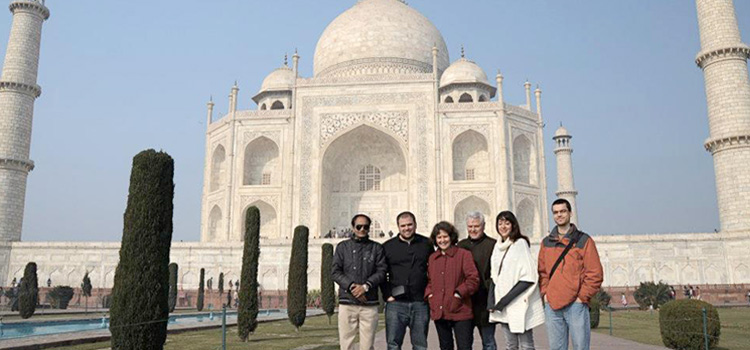 TOUR CAPACITY:
5 Person Maximum For Group travel please contact first.
Contact Now
Description :
Hire Govt. Approved tour Guide in Agra for your Agra visit to enhance your experience. This Agra guided tour is specially design for you to visit UNESCO World Heritage sites with in an informative and luxurious way. Taj Mahal was built by fifth Mughal emperor Shah Jahan in memory of his loving wife Mumtaj Mahal. Taj Mahal took 22 years to be complete, it was finished in 1653. Agra fort was built by third Mughal emperor Akbar who was the grand father of Shah Jahan. Akbar truly found Mughal dynasty in India, he win more then 18 battles. Agra fort was one of them, Infect this is the first site which become UNESCO World Heritage sites in Agra. Till Shah Jahan this fort was used by Mughal for living purpose Must read 10 Intrusting facts of Taj Mahal

PLEASE NOTE: THIS IS GUIDED TOUR WITHOUT TRANSPORTATION. (Ask for the transport in just USD $50)
Please read list of prohibited items inside Taj Mahal
Detailed ITINERARY :
Guide Reporting.
Government Approved tour Guide in Agra will report you on the arrival in Agra city or in your Hotel, and explain you do and don't about Taj Mahal Visit
Taj Mahal Visit
Your Guide will take you to Taj Mahal, the UNESCO World Heritage Site built by a Mughal emperor in memory of his beloved wife.
Agra Fort Visit
After Taj mahal Guide will take you to show imposing red sandstone Agra Fort which is another UNESCO site in of Agra

Agra fort was built by Hindu ruler Badal Singh and fort was earlier known as Badal garh, it was just a mud fort. Later on 3rd Mughal Emperor Akbar reconstructs this Agra Fort. Reconstruction started in 1565 and it took 8 years to be complete. But some building inside the Agra fort is later edition by Shah Jahan. Shah Jahan love white marble while he was building the Taj Mahal he brought all white marble from Makrana, which is considered hardest marble in the world. He built some white marble inside the Agra fort with the gold plated roof, gold is gone but now we have brass for an idea. He also built one beautiful tower with the Gems inlaid, that was for the public appearance later on he was house arrest by his son Aurangzeb. While Shah Jahan was house arrest by his son in that tower he can see Taj Mahal from there. In the Agra fort we have so many beautiful building like Diwan-e-aam, Diwan-e-Khas, Khas mahal, Jasmin tower, Anguri bagh, Jahangir Mahal, Goldern Palace etc.
Local craft visit
After Agra fort visit of local craft, While you are in Agra you have chance to see some of local crafts of Agra. Because when you leave the Agra city you will leave these arts behind. Agra city is famous for Marble Inlay, Zardozi, Mughal carpet, jewelry etc. Agra in not only famous for Taj Mahal and Agra fort it's also world famous for some very unique Mughal arts
Lunch Break
Lunch break in a restaurant or hotel. Agra city was the capital of Mughal Empire for about 120 years, so this city also famous for Mughal cuisine.
TOUR END
PLEASE NOTE: This is a customized tour, so any changes in itinerary are possible as per your choice.
What's Included:
Government approved tourist guide service in Agra.
Water bottles.
Camera fee.
Battery Bus/golf cart Ride at Taj Mahal.
What is Not Included:
Entrance ticket for all monuments.
Lunch/dinner/drinks etc.
Transport.(Ask for the transport in just USD $50)
Tips.
Anything which is not mention in include list.
What is the difference between tour guide vs. Expert tour guide?
Answer: Expert tour guide has at least 10 Years experience with post graduation qualification in related field.
Govt Approved tour Guide in Agra
Charges:
Tour Guide USD $30 Advance $15
Expert Tour Guide USD $50 Advance $20
Please send your detail on info@agraguide.com or whatsapp +91 98976186196 along with whatsapp no, Name, Date of visit, No of person, payment detail.
For booking pay Advance $15 or $20

*Pay Balance when tour start*
Intrusting facts of Taj Mahal
What is meaning of Taj Mahal?



Taj Mahal in Agra is the combination of 2 words. Taj means "crown" and Mahal means "Palace", But as you know it's not a living place it's a mausoleum or a tomb of Mumtaz Mahal.

Who built the Taj Mahal and Why?



Taj Mahal in Agra was built by fifth Mughal Emperor Shah Jahan in memory of his loving wife Mumtaz Mahal. Taj Mahal is the tomb of Mumtaz Mahal. Taj Mahal also known as building of eternal love. Shah Jahan he was the boy who born with the golden spoon, and he became men with the campaign taste who never compromise with quality.

Who was Shah Jahan?



Shah Jahan was the fifth Mughal Emperor of India. He was the richest person of the world at that time like his Father Jahangir and his grandfather Akbar. Back then 27% GDP of the world was from India. If we considered all time inflation Shah Jahan was the richest person of the world ever.

How many wife Shah Jahan have?



Shah Jahan was husband of four beautiful wife (as per most of historians). Mumtaz was second and most beautiful wife she was Persian and Persian ladies are known for there spotless beauty.

Who was Mumtaz mahal?



Mumtaz was from a noble family. Her grand father Mirza Ghiyath Beg was the prime minister of Jahangir. Her Aunt Nur Jahan was 20th wife of Jahangir.

What is History of Taj Mahal?



Taj Mahal built by Shah Jahan in memory of his wife. This is her tomb When Mumtaz died she was only 38 years old and she was delivering 14th child of Shah Jahan, only 7 children were survived 4 boys (Dara Shikoh, Shah Shuja, Aurangzeb and Murad Baksh) and 3 daughters (Jahanara Begum, Roshanara Begum and Gauhar Ara Begum).
She died in the child birth, but that baby survived she was Shah Jahan's third daughter Gauhar Ara. Mumtaz died in June 1631 and Taj Mahal construction started after 6 months death of Mumtaz.

(One American author of Indian origin, Indu Sundaresan she wrote a wonderful book about Mumtaz death and Taj Mahal construction "Shadow Princess" (Taj Mahal Trilogy #3) that's I would like to recommend you. It has 80% history and 20% Fiction)

Taj Mahal work stated in December 1631 and finished in 1653, it took 22 years to be complete main white Taj Mahal Mausoleum took 17 years and red sand stone structure took 5 years. More then 20 thousand workers were involved in the construction of Taj Mahal. 40 million Indian rupees that was the cost construction of the Taj Mahal then.
Then gold was about 1 Indian rupee per gram and today is about 3500 Rs per gram. So today's Taj Mahal construction cost would be around 2 billion Us Dollars. This is just the construction cost of Taj Mahal historical value is much more like it priceless.
Taj Mahal become UNESCO world heritage site in 1983 but after 7th July 2007 (07/07/2007) this become first men made wonder of the world. So now Taj Mahal is first among seven men made wonder of the world.
Taj Mahal minarets are 2 degree diagonal towards the corner so if earthquake occur they will not fall over the Taj Mahal, they will fall outside.

Architecture of Taj Mahal

Taj Mahal is the combination of 10 buildings and fusion of 4 architectures. Ustad Isa khan Afrandi was the Architect of Taj Mahal. For the Taj Mahal he brought idea from different buildings.

Taj Mahal is the combination of 10 Buildings
1. Taj Mahal main building concept got from 2nd Mughal Emperor Humayun's tomb which is in Delhi.
2. Taj Mahal main gate (royal gate) concept from 3rd Mughal Emperor Akbar's tomb which is in Agra.
3. Taj Mahal minarets (4 towers) concept from 4th Mughal Emperor Jahangir's tomb which is in Lahore Pakistan.
4. Taj Mahal white marble and marble Inlay work concept was from Itmad ud daulah's tomb which in Agra that is also know are "baby Taj Mahal" or "jewel box".
5. Taj Mahal kiosk (chhatri) concept was from Mandu Fort which is in ?Dhar district of M.P state.
6. Taj Mahal Raised platform concept from previous dynasty Lodi dynasty.
7. Taj Mahal four garden concepts were from Persia (modern Iran) and called Paradise garden.
8. Taj Mahal facade and row of the fountain concept from Alhambra Granada.
9. Taj Mahal double dome concept was from great Mosque of Damascus Syria.
10. Taj Mahal Dado, Zali (screen) and wall relive carving are part of Hindu Architecture.

Taj Mahal is the the fusion of 4 Architecture
1. Hindu.
2. Persian.
3. Islamic.
4. Ottoman architecture.


Stones used in Taj Mahal construction

White Marble
Taj Mahal basic structure in on bricks and Marble used as veneer (6 inch to 2 feet). For the Taj Mahal Shah Jahan brought all white marble from Makrana. Makrana marble is considered hardest and purest marble in the world, even it's 10 times stronger then Italian marble Carrara. Carrara marble is porous, but Makrana marble is impervious. In India we have more then 100 types of the marble but Makrana marble is the best.

Red sandstone
Red color stone which was mainly used to built mosque and guest house in the Taj Mahal complex. This red sandstone was from 50 KM away of Agra.

Semi precious Gems Inlay on Taj Mahal
Taj Mahal is beautifully decorated with marble Inlay work. This art is also called pietra dure. Semi precious stones are use to inlay on the Taj Mahal.


List of semi precious stones used in Taj Mahal Inlay

About 28 different types of Gems stones are inlay on the Taj Mahal.
Like. Lapis lazuli, Jade, Malachite, Carnelian, Garnet, Black onyx, Blood stone, yellow Jasper, Gold sand Stone, Red Jasper, Sodalite, Rhodonite, Quartz, Topaz, white Jade, Turqoise, Oplite, Red Agate, Green Agate Etc.